"Think first, to fulfill our customers' needs and expectations"
Sunflame was originally founded by a burner engineer.
Our manufacturing policy represents our commitment to developing products that are easy to handle and are in demand on site.
Combustion technology along with rotary-cup burners for trouble-free operation even in harsh environments on vessels.
Control technology for best performance according to various customers' needs.
We strive to rise even higher in our technological excellence in the aspects of both hardware and software.
Hardware
The rotary cup burner is Sunflame's core combustion technology. Since its foundation, our ever-evolving rotary cup burner has been highly acclaimed as an equipment on our auxiliary boiler burners and incinerators.
Our rotary cup burner combines high combustion performance with ease of maintenance. It has achieved low fuel consumption and trouble-free products even with fuels of relatively high viscosity commonly used by marine vessels.
The rotary cup burner's fuel adaptability is a valuable asset for marine de-carbonization; our latest products are catered for use with environmentally friendly fuels such as LNGs. Our burners continue to evolve into what is most needed in the world today.
A variety of fuels are expected to be used for decarbonization. In this regard, our rotary cup burner is advantageous with its wide fuel viscosity range. By developing products that are also compatible with environmentally friendly fuels such as LNG, we continue our global contribution.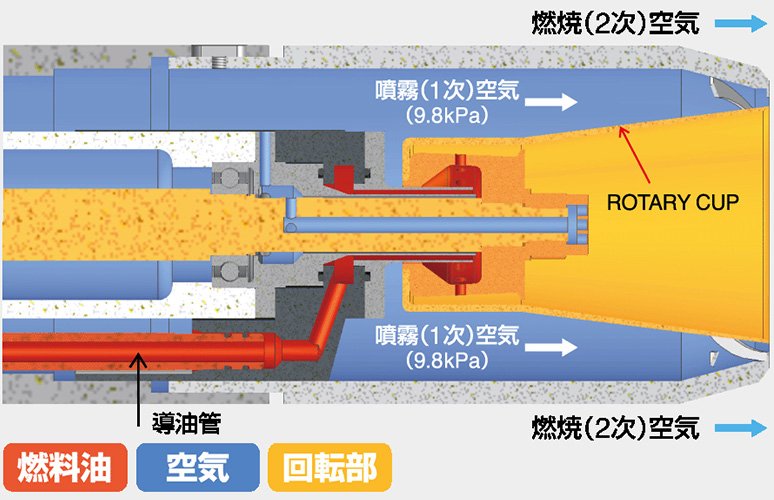 The rotary cup burner transfers fuel into the furnace by spinning at high speed.
A thin film of oil subsequently forms at the tip of the cup from the centrifugal force.
The film of oil is then atomized into very fine particles by the high air pressure of 9.8kPa.
| | Spray Method | Pipe Pressure | Fuel Viscosity |
| --- | --- | --- | --- |
| Rotary Cup Burner | Centrifugal Force | Low; approx. 0.3MPa-0.5MPa | Wide Range |
| Pressure Jet Burner | Pressure | High; approx. 2MPa | Narrow Range |
Besides the rotary cup method, there is a pressure jet burner method that atomizes the fuel by high air pressure through a small spray nozzle. The rotary cup burner is able to use fuel with a wide viscosity range to spray fuel stably compared to the pressure jet burner.
Furthermore, the rotary cup burner prevents fuel from splashing when there is pipe leakage as it operates with low pressure.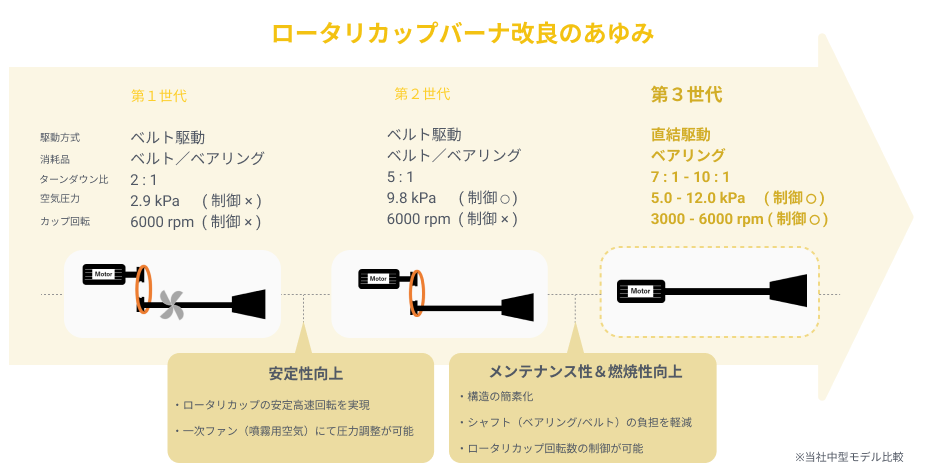 Conventional rotary cup burners, while highly regarded for their high performance, have sometimes raised concerns about the difficulty of maintenance due to the large number of component parts. However, Sunflame has overcome this problem by simplifying the structure as a result of continuous effort for improvements. Direct connection of the motor and cup reduces the number of parts and weight, and facilitates maintenance. This is the third generation of rotary cup burners in our company.
In SDR-350, 500, 700, 1000 and 1500 models, the cup rotation is so controlled that it can form the most suitable atomization at any fuel flow rate. This control enables optimal automatic adjustment based on steam demand, achieving a turndown ratio of 10:1 as standard (SDR-350 is 7:1). By reducing the frequency of the burner turning on or off, higher fuel efficiency is achieved.
Software
Our software is an important technology which optimizes machinery performance.
As marine fuel options increase, combustion equipment control becomes increasingly complex. Reliable software is more important than ever so that engineers of all skill levels can draw out the full potential of our products.
By developing hardware and software in-house in an integrated manner, we are able to respond to the needs on board the vessel appropriately and immediately. Sunflame will continue to pursue the customers' usability by providing appropriate solutions such as touchscreen control panels and the remote monitoring system.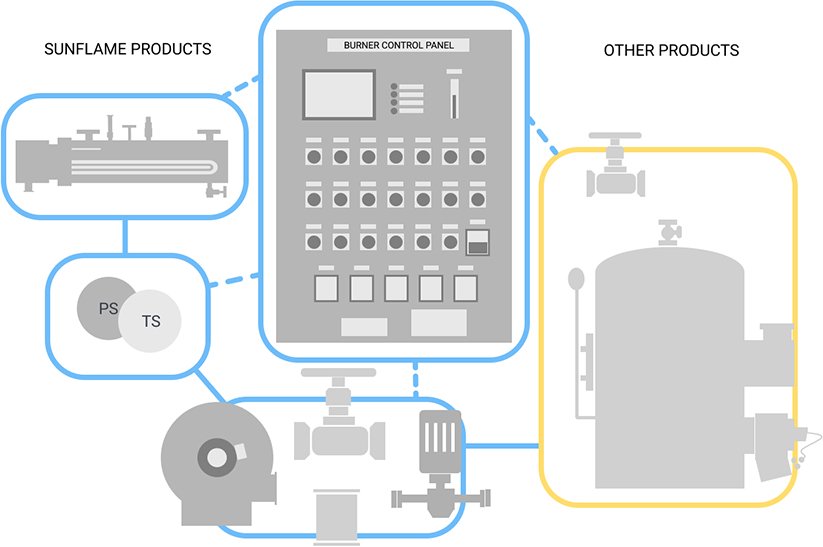 The usability of a boiler depends on the burner control panel, which controls fuel oil pumps, pre-heaters, forced draft fans, water levels and steam pressures in one integrated control panel.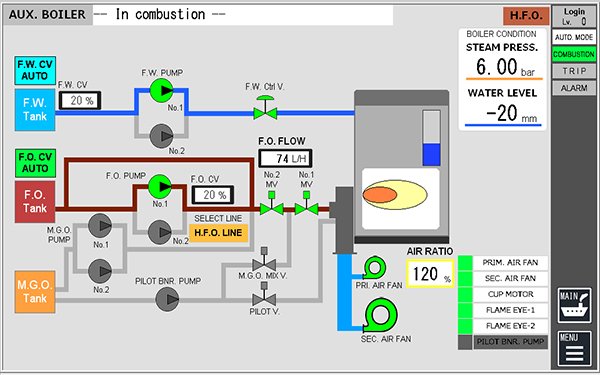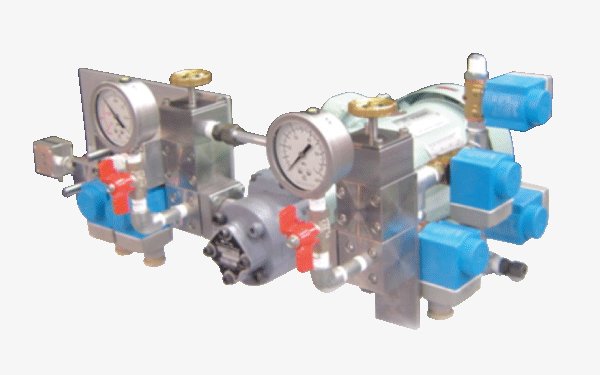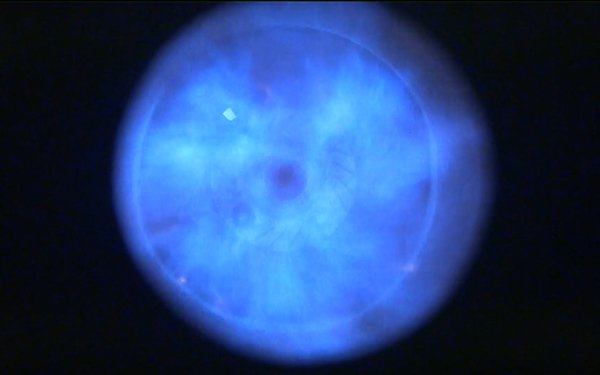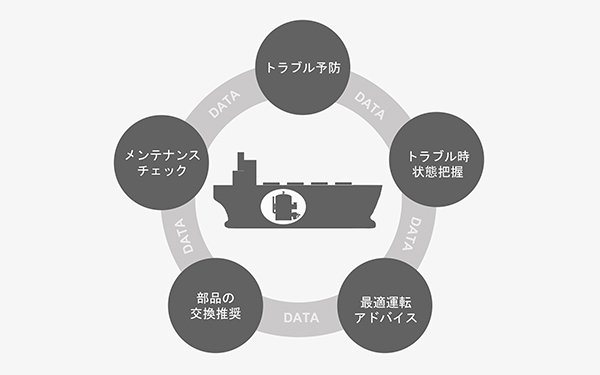 Sunflame has developed various software solutions to maximize the usability of the boiler system and product performance. The touchscreen control panel focuses on user-friendliness and visualizing hardware performance. Software control also helps users to familiarize themselves with new equipment such as the Emulsion Combustion System and the DF Burner. We are also developing new solutions with data utilization so that we may address needs such as remote equipment monitoring.