Engineering Nonstop.
Sunflame's products are equipped by marine vessels worldwide.
As a leader in rotary cup burners and combustion technology,
we contribute to the global maritime industry with our innovative solutions
built on decades of experience.
SUNFLAME'S POLICY
"Think first, to fulfill our customers' needs and expectations."
FOUNDATION

Decades of experience and
trust since 1968

Originally founded as an oil fuel burner maintenance company, our expertise in manufacturing is rooted in years of experience in machinery troubleshooting. Our products have been adopted by ships globally for their reliability.

COMPETENCE

A leader in rotary cup burner technology

As the representative of our combustion technology, the rotary cup burner is an indispensable component of our auxiliary boiler burners and incinerators. It is capable of stable combustion regardless of fuel viscosity. Furthermore, its practicality and simple structure have been highly regarded by our clients.

SYNERGY

The synergy between
our hardware and software

The marine industry today faces new challenges due to environmental regulations, complex machineries and a new generation of the digital age. We provide flexible solutions for various needs, made possible by the integrated approach of our hardware and software.
SERVICE
Products
Sunflame manufactures burners for auxiliary burners and incinerators, both of which are equipped with rotary cup burners.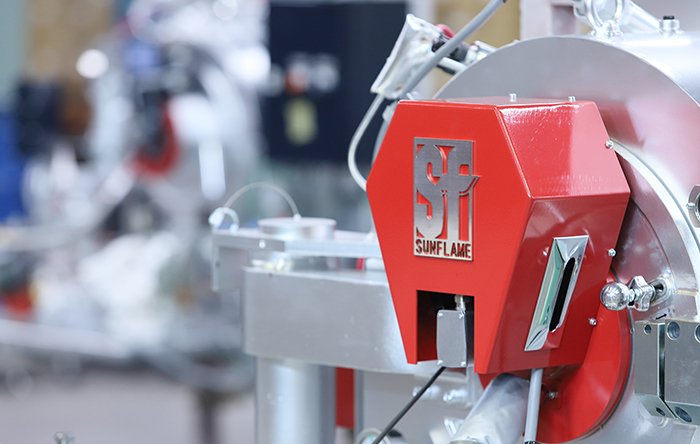 After-Sales Service
Our origin as a maintenance company inspires us to continue providing quality long after product delivery. It is in our essence to not only repair, but to keep on providing extended support for our users.