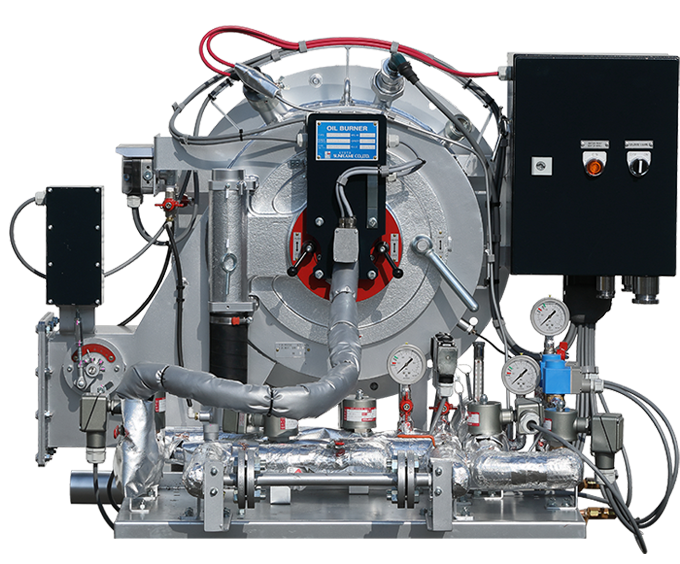 PRODUCTS
Burner for Aux. Boiler
Safe and efficient combustion through years of innovation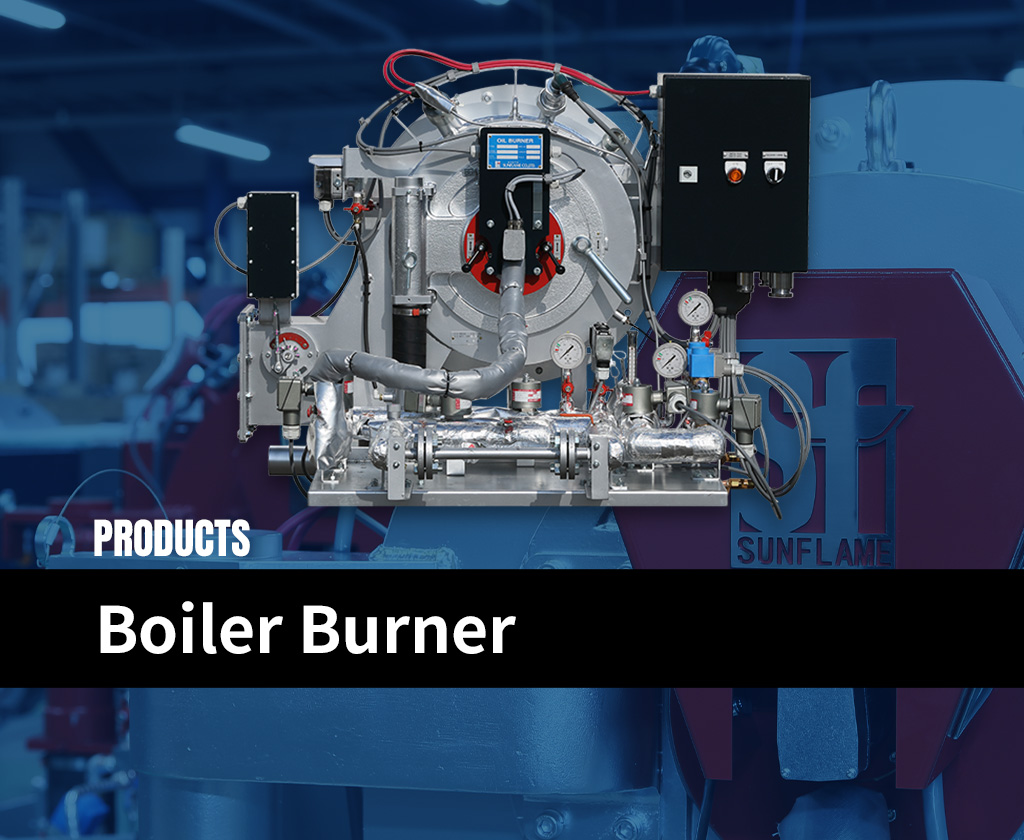 What is an Auxiliary Boiler Burner?
An auxiliary boiler burner is an apparatus used to produce flame for heating auxiliary boilers. It is an essential equipment used by vessels at anchorage and during voyage.
The auxiliary boiler uses the flame from the burner as a heat source to produce steam. The steam is used to heat fuel to proper temperature, to adjust air conditioning and water temperature, to clean cargo tanks, and to run cargo pumps on oil tankers.
The "rotary cup burner" is the core technology of our Auxiliary Boiler Burner; its stable combustion is made possible with the joint development of our hardware and software. By optimizing the performance of our burners, we offer the perfect solution for your vessel's needs.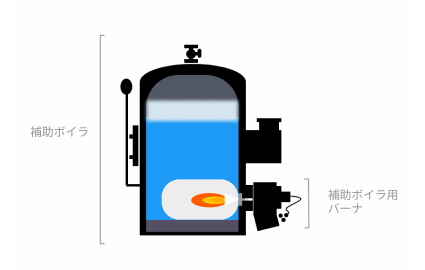 Advantages
The rotary cup burner is able to maintain fine fuel atomization for a wide range of fuel conditions and characteristics. Stable combustion is available at a wide range of flame size because essential factors such as fuel volume, atomizing air volume, combustion air volume and rotary cup speed can be controlled individually.

Since the fuel pressure for atomization is only 0.3-0.5MPa, it prevents scattering in case of fuel leakage and is safe to use. It also minimizes equipment wear and the need for parts replacement.

The rotary cup burner is clog-free as it does not use the tiny hole of a nozzle tip to atomize fuel.

The motor is attached directly to the shaft, and the primary air for atomization is installed separately. This structure allows for fewer parts and less stress onto the shaft as well as finer combustion control. The motor is attached directly to the shaft and is separate from the primary air fan for atomization. This structure minimizes stress onto the shaft and the number of parts, and allows for finer combustion control.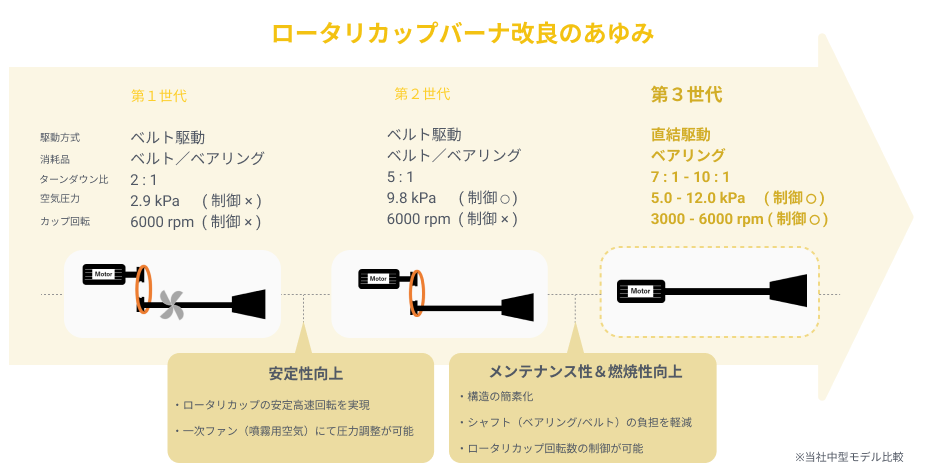 05Compatibility with Various Fuels
Rotary cup burner supports fuel viscosity between 1.5 cSt to 700 cSt and is able to switch between fuels during operation
No need to change nozzles, pumps or other hardware settings when switching between fuels
Safely switch between HFO and MGO fuels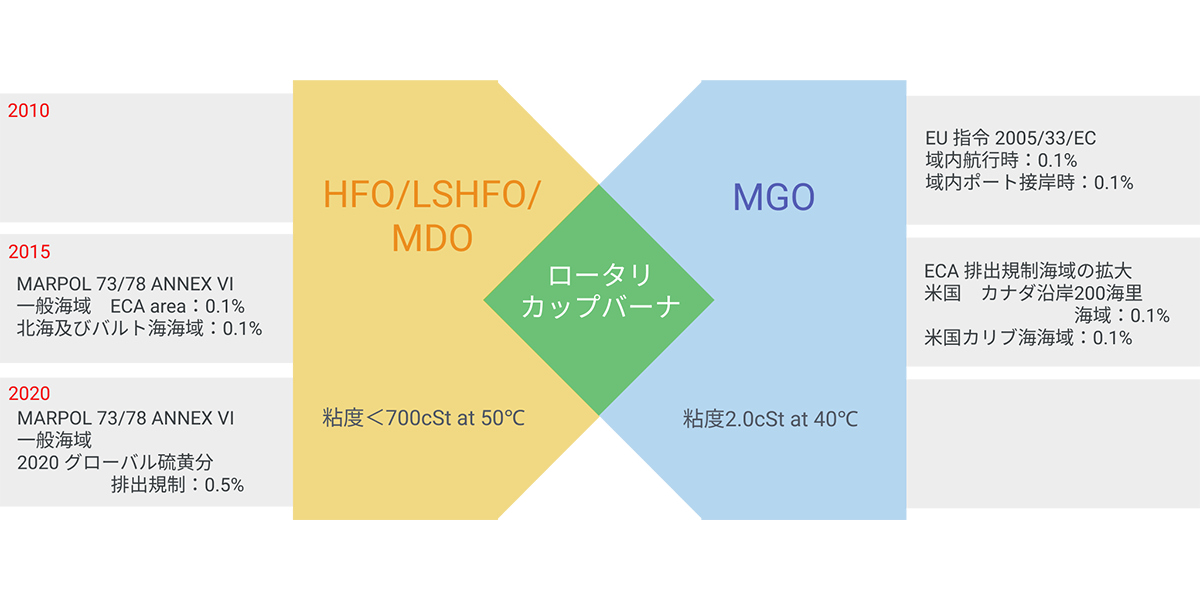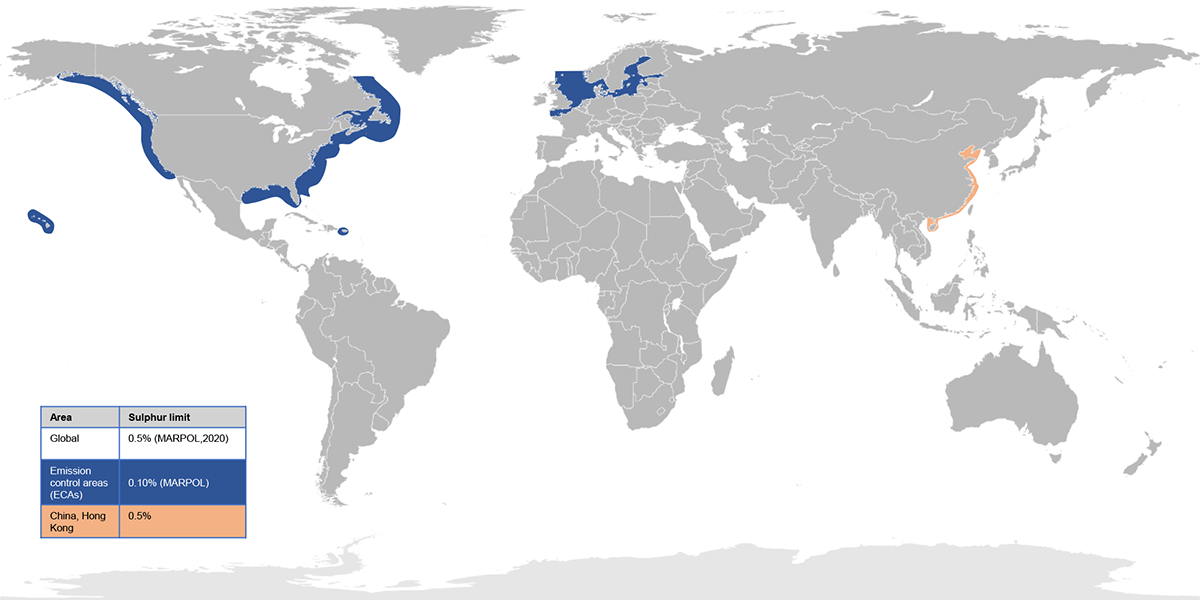 Main burner is attached to hinge door for easy maintenance
Reduced total weight and number of parts
For SDR-350 to SDR-1500, the main valve and fuel control valves are integrated into a block unit, reducing consumable parts and maintenance work
Wide Turndown Ratio

It optimizes combustion volume according to steam consumption demand. The amount of fuel can be adjusted to maximize heat exchange for a wide range of steam consumption demand.

Combustion Air Volume Optimization

Optimizing combustion air volume reduces heat loss during combustion, leading to fuel efficiency.

Less Fuel Consumption

Improve fuel efficiency even further with the Emulsion Combustion System, available as an optional upgrade.
A graphic touchscreen is equipped onto the control panel to improve usability.
In case of machine troubles, the source can be tracked using the data logger function.
Accurate Remote Advice
We will check the critical condition and offer operation advice based on details on the control panel screen.
The data logger function can also be used to check the machine condition before the trouble.
Troubleshooting Display
Troubleshooting procedures will be displayed on the screen in case of machine troubles.
Product Line-Up
SDR-1

SDR-1.5

SDR-2

SDR-2.5

SDR-350

SDR-500

SDR-700

SDR-1000

SDR-1500

R-25

R-40
Combustion Capacity
45-100 kg/h
Fuel Oil
Heavy Oil (Viscosity 700mm

2

/s at 50℃), MGO, DMO, Waste Oil
Fuel Oil Pressure
0.15 MPa
Automatic Control System
ON/OFF Control
Cup Drive System
Motor Direct Drive System
Weight(≒kg)
230 kg
Boiler Capacity
~1.2t
Recommended Vessel Type
Bulk Carrier
Combustion Capacity
50-150 kg/h
Fuel Oil
Heavy Oil (Viscosity 700mm

2

/s at 50℃), MGO, DMO, Waste Oil
Fuel Oil Pressure
0.3 MPa
Automatic Control System
ON/OFF Control
Cup Drive System
Motor Direct Drive System
Weight(≒kg)
230 kg
Boiler Capacity
1.2~2t
Recommended Vessel Type
Container, PCC, VLGC
Combustion Capacity
50-200 kg/h
Fuel Oil
Heavy Oil (Viscosity 700mm

2

/s at 50℃), MGO, DMO, Waste Oil
Fuel Oil Pressure
0.3 MPa
Automatic Control System
ON/OFF & HIGH/LOW Control
Cup Drive System
Motor Direct Drive System
Weight(≒kg)
230 kg
Coiler Capacity
2~2.5t
Recommended Vessel Type
Container, PCC
Combustion Capacity
50-250 kg/h
Fuel Oil
Heavy Oil (Viscosity 700mm

2

/s at 50℃), MGO, DMO, Waste Oil
Fuel Oil Pressure
0.3 MPa
Automatic Control System
ON/OFF & HIGH/LOW Control
Cup Drive System
Motor Direct Drive System
Weight(≒kg)
230 kg
Boiler Capacity
2.5~3t
Recommended Vessel Type
Container
Combustion Capacity
50-350 kg/h
Fuel Oil
Heavy Oil (Viscosity 700mm

2

/s at 50℃), MGO, DMO, Waste Oil
Fuel Oil Pressure
0.3 MPa
Automatic Control System
ON/OFF & Proportional Control
Cup Drive System
Motor Direct Drive System
Weight(≒kg)
600 kg
Boiler Capacity
3~4.5t
Recommended Vessel Type
Container
Combustion Capacity
50-500 kg/h
Fuel Oil
Heavy Oil (Viscosity 700mm

2

/s at 50℃), MGO, DMO, Waste Oil
Fuel Oil Pressure
0.3 MPa
Automatic Control System
ON/OFF & Proportional Control
Cup Drive System
Motor Direct Drive System
Weight(≒kg)
600 kg
Boiler Capacity
4.5~6t
Recommended Vessel Type
Container
Combustion Capacity
70-700 kg/h
Fuel Oil
Heavy Oil (Viscosity 700mm

2

/s at 50℃), MGO, DMO, Waste Oil
Fuel Oil Pressure
0.3 MPa
Automatic Control System
ON/OFF & Proportional Control
Cup Drive System
Motor Direct Drive System
Weight(≒kg)
600 kg
Boiler Capacity
6~9t
Recommended Vessel Type
Passenger
Combustion Capacity
100-1000 kg/h
Fuel Oil
Heavy Oil (Viscosity 700mm

2

/s at 50℃), MGO, DMO, Waste Oil
Fuel Oil Pressure
0.3 MPa
Automatic Control System
ON/OFF & Proportional Control
Cup Drive System
Motor Direct Drive System
Weight(≒kg)
600 kg
Boiler Capacity
9~12t
Recommended Vessel Type
Product/Chemical Tanker
Combustion Capacity
150-1500 kg/h
Fuel Oil
Heavy Oil (Viscosity 700mm

2

/s at 50℃), MGO, DMO, Waste Oil
Fuel Oil Pressure
0.3 MPa
Automatic Control System
ON/OFF & Proportional Control
Cup Drive System
Motor Direct Drive System
Weight(≒kg)
600 kg
Boiler Capacity
12~20t
Recommended Vessel Type
Product/Chemical Tanker
Combustion Capacity
250-2500 kg/h
Fuel Oil
Heavy Oil (Viscosity 700mm

2

/s at 50℃), MGO, DMO, Waste Oil
Fuel Oil Pressure
0.4 Mpa
Automatic Control System
ON/OFF & Proportional Control
Cup Drive System
Belt Drive System
Weight(≒kg)
850 kg
Boiler Capacity
20~35t
Recommended Vessel Type
Product Tanker, VLCC
Combustion Capacity
400-4000 kg/h
Fuel Oil
Heavy Oil (Viscosity 700mm

2

/s at 50℃), MGO, DMO, Waste Oil
Fuel Oil Pressure
0.4-0.5 Mpa
Automatic Control System
ON/OFF & Proportional Control
Cup Drive System
Belt Drive System
Weight(≒kg)
1200 kg
Boiler Capacity
35~50t
Recommended Vessel Type
VLCC