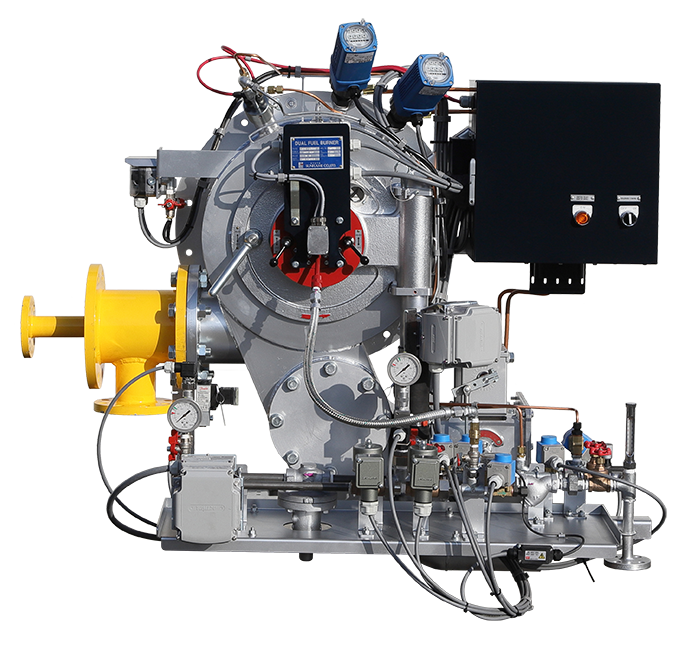 PRODUCTS
DF Burner for Aux. Boiler
A multi-functional oil and gas burner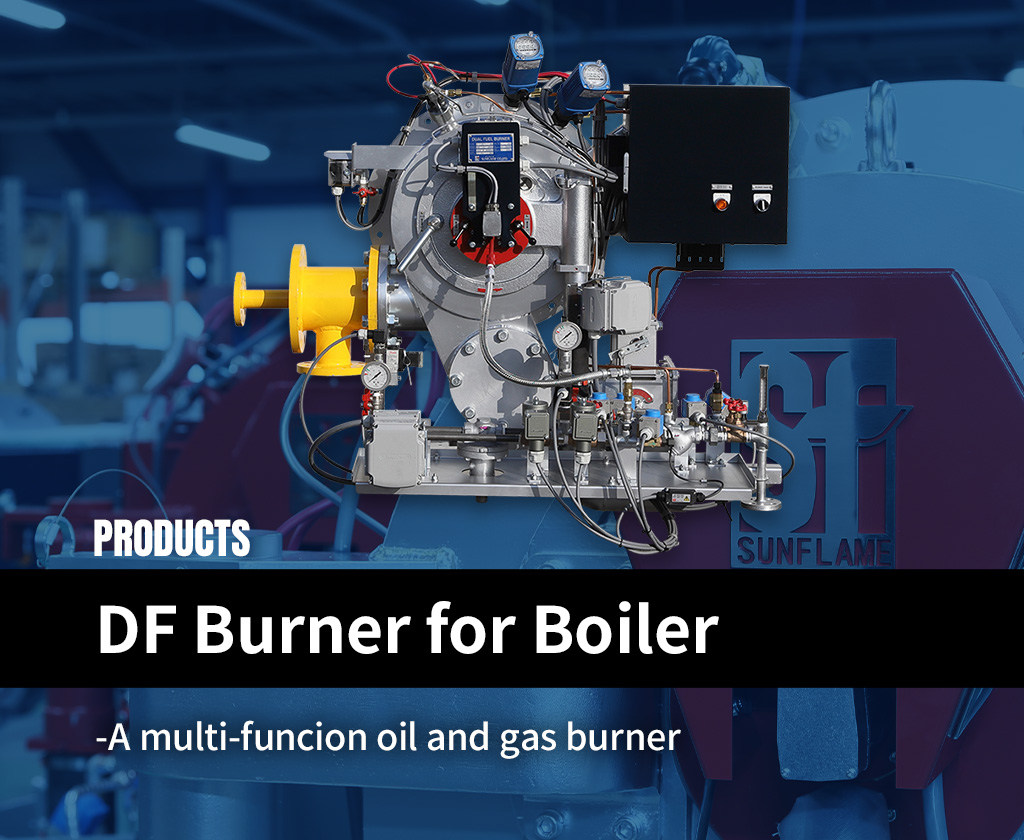 What is a DF burner?
A DF (dual-fuel) burner is a combustion apparatus that can use low-carbon gaseous fuels such as LNG as well as petroleum fuels.
It can be used not only as a heat source for auxiliary boilers, but also for the disposal of BOG as well as excess gas during bunkering.
Features
Sunflame's DF burner is the rotary cup burner with integrated gas nozzles for stable combustion. Controls for rotary cup spinning speed, primary air for atomization and secondary air for combustion are just as effective for gaseous combustion as petroleum fuel combustion.
The software also improves its conventional capabilities. The control panel, equipped with a graphical touchscreen, has been designed to facilitate complicated oil and gas controls. A remote monitoring service via ship-to-shore communication is also available for optimal operation of the DF burner.
Stable combustion by automated control of rotary cup spinning speed, primary air for atomization and secondary air for combustion

Reduction of frequent start/stop operation by broader combustion turn-down ratio

03Contribution to Low-Carbon Society

Minimized fuel consumption by automatic oil fuel control based on the inert gas mixing ratio during GCU mode

Equipped with the devices required for the use of the Sunflame Smart Support System.

*Additional service fees apply.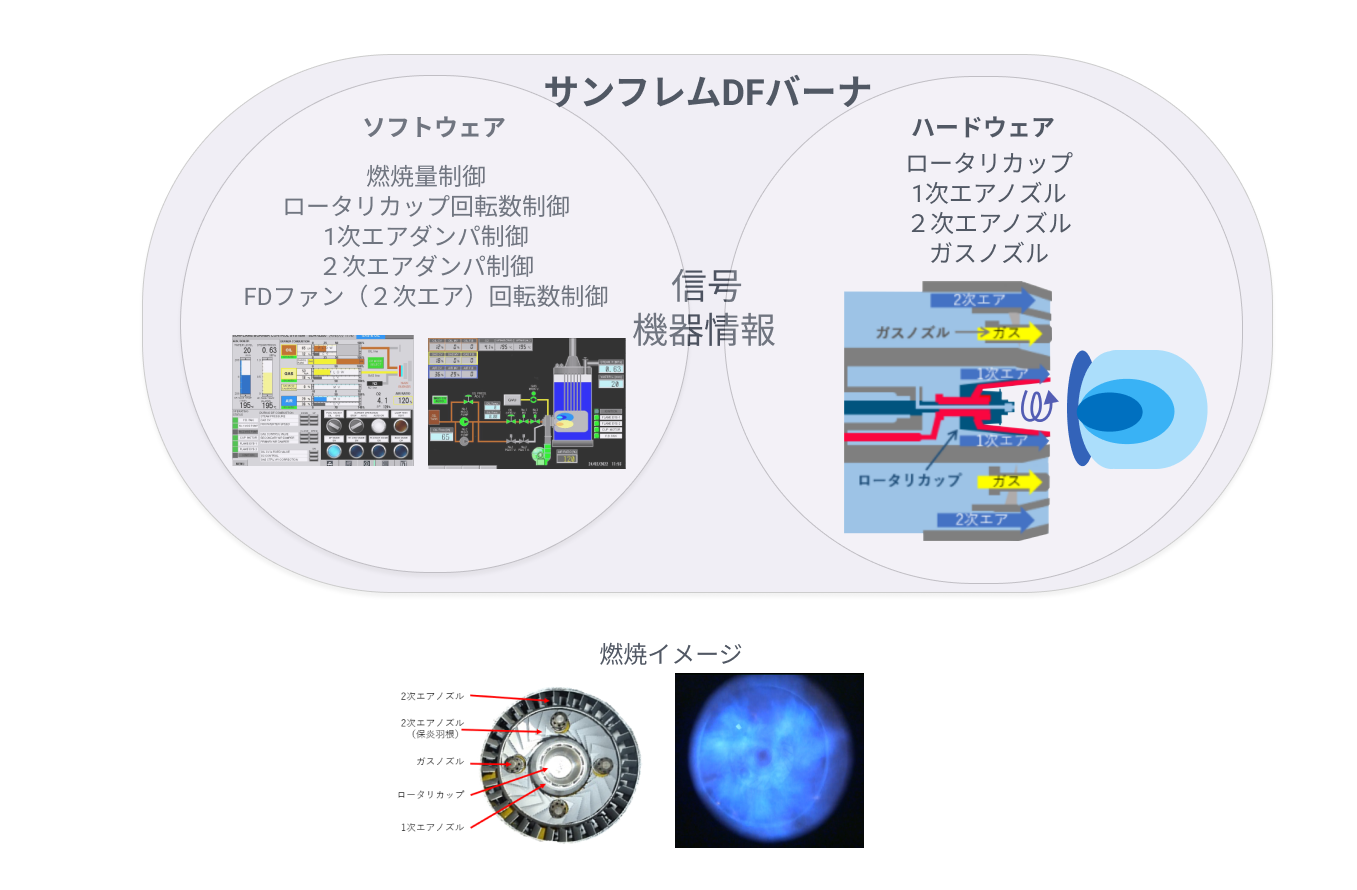 Sunflame's DF burner features 4 different combustion modes.
It can be used as a heat source for auxiliary boilers on LNG powered ships through oil or gas fuel combustion as well as dual fuel combustion.
BOG (Boil Off Gas) and purge gas which results from bunkering can be processed at a free flow pressure (under 0.01MPa) using the GCU mode.




Return piping is not required as both the main line and the ignition burner line use one common line. Since the ignition burner pipeline is operated at a low oil pressure of 0.3 MPa, it minimizes the number of components and consumable parts, making maintenance simpler.
For maintenance purposes, the burner is accessible by simply opening the hinged door.
The GVU is equipped with a valve control function and can check gas leaks and location instantaneously. Details

07User-Friendly Control Panel
Complex oil and gas controls made simple for anyone to use.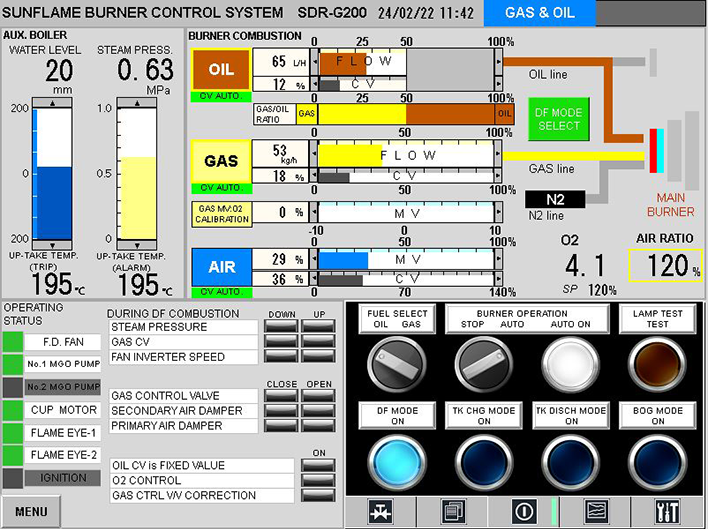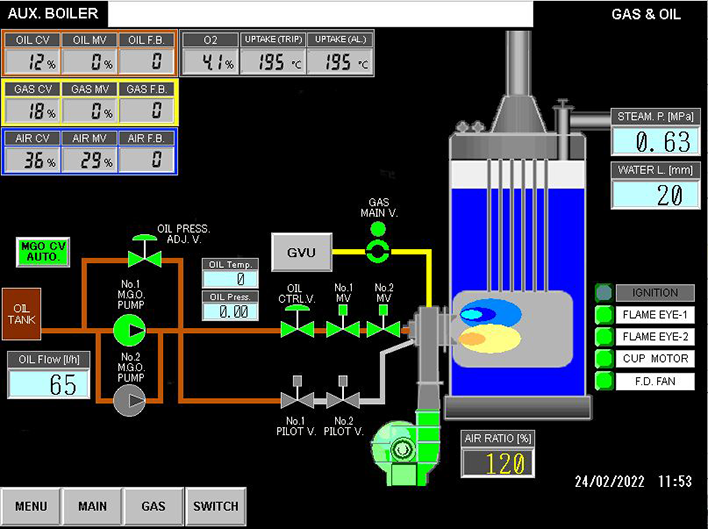 Visualizes the operation of the burner, the condition of the boiler and fuel control valve, and more
Operate and switch from one mode to the next using a touchscreen control panel
Displays troubleshooting procedures and caution alert for safe operation
Optimum air-fuel ratio of each control table for atomizing air, combustion air, spinning speed and oil flow
Product Specifications (SDR-G200)
Gas Combustion Capacity
16-160kg/h
Combustion Capacity
MGO
20-180 kg/h
HFO
30-200 kg/h
GCU Mode Combustion Capacity
BOG Mode
160 kg/h (223Nm

3

/h)
Tank Charge/
Discharge Mode
Gas:160 kg/h (223Nm

3

/h)
N2 100%:250 kg/h (200Nm

3

) + Oil
Turn-Down Ratio
Gas
10:1
MGO
9:1
HFO
6.6:1
Please contact us regarding the product line-up.