SUNFLAME VIRTUAL FACTORY TOUR
A visual guide to Sunflame's manufacturing process
Factory Map
Click on the map to learn more: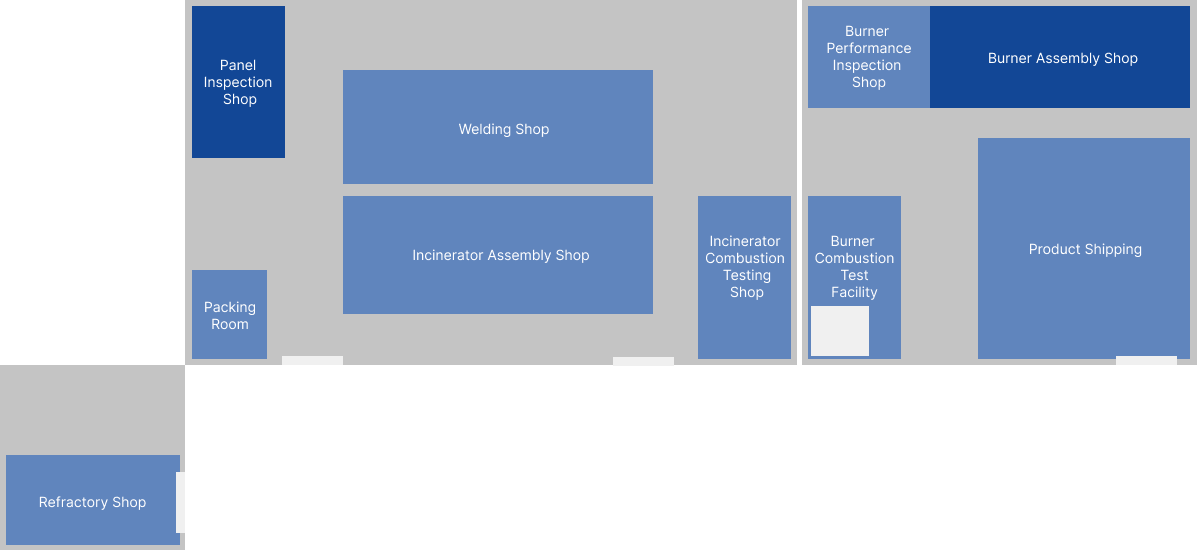 01

Refractory Shop

High-quality refractory materials are prepared and applied here. The material composition and moisture content is blended according to climate such as humidity and temperature. The refractory is then applied onto the inside walls of incinerator furnaces and burner tiles.
02

Welding Shop

Welding is a process that is representative of the manufacturing industry. Here, burner and incinerator components are welded precisely by the hands of professional craftsmen.
03

Burner Assembly Shop

After welding and painting are completed, the auxiliary boiler burners are assembled into their final forms. Wiring, piping and various equipment are assembled with precision. This is an important process which determines burner quality.
04

Incinerator
Assembly Shop

After the welding and painting are completed, burners, exhaust gas fans and control panels are assembled into furnaces with precision. It is an important process which determines incinerator quality.
05

Panel Inspection Shop

Control panels for burners are tested here using simulators. This procedure reinforces our products' usability and stability by checking for malfunctions, which is important as equipment control systems continue to become more complex than ever.
06

Burner Performance Inspection Shop

The combustion system is inspected here; FO control valve and other equipment is tested to ensure performance. The performance data that is recorded during this procedure is also used to confirm machine performance after product delivery.
07

Incinerator Combustion Testing Shop

The refractory is dried here while the incinerator's performance and control system are inspected. The drying process evaporates the moisture remaining in the refractory, which effectively prevents initial refractory defectives.
08

Product Shipping

Finished products are shipped out of the factory after quality inspection and packing. The products' shipping conditions are recorded as data, and then are shipped to our clients by our trusted shipping agents.
09

Burner Combustion
Test Facility

Our combustion testing facility is equipped with a combustion test furnace with a thermography and other equipment to perform and analyze burner combustion. Our engineers conduct testing regularly for product development and improvement.