A leading manufacturer of rotary cup burners
Sunflame's products are used aboard ships across the globe.
Stable combustion by precise control represents our technical expertise in the rotary cup burner which is equipped by both our burners and incinerators. In order to satisfy our users' needs, we aim to be at the forefront of international marine technology.
Our pursuit for a higher level of engineering is a journey that never stops.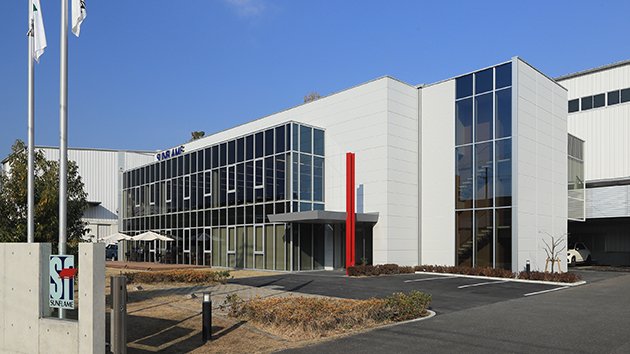 "Think first, to fulfill our customers' needs and expectations."
Company Profile
Company Name
Sunflame Co., Ltd.
Address
1-30, Nishinohata, Okubo-cho, Uji, Kyoto 611-0033, Japan
Contact Information
Tel: +81-774-41-3310
E-mail: info@sunflame.net
Establishment
August 1968
Capital
30 million yen
Number of Employees
71
Managing Director
Tatsuo Tanaka
Business
Development, Production, Sales and Customer Support of:
・Marine auxiliary boiler burners with control systems
・Marine incinerators
Overseas Agencies
Vancouver, Athens, Singapore, Shanghai, Hong Kong, Hamburg, Istanbul, Changwon
Customer Support Locations
Japan, India, Netherlands, Greece, Singapore, China, USA
History
1968

"Osaka Sunflame Co., Ltd" founded as an oil burner maintenance company

1969

Started oil burner production

1972

Started manufacture of waste oil incinerators

1980

Released the high-performance rotary cup burners "Type SSR" and "Type R"

1982

Renamed company to "Sunflame Co., Ltd." and purchased factory in Kyoto

1998

Built factory in Kumiyama, Kyoto following business expansion

2001

Released the direct-driven rotary cup burner "Type SDR"

2005

Obtained ISO9001 certification; moved company headquarters and factory to Uji, Kyoto following business expansion

2006

Developed a control system for large size auxiliary boilers for VLCCs

2008

Released the direct-driven large size rotary cup burner "SDR-1500" and control system with graphic touchscreens

2009

Released the Emulsion Combustion System (ECS); released the direct-driven middle sized rotary cup burner "SDR-350", "SDR-500", "SDR-700"

2014

Developed the LNG-compatible dual fuel burner "SDR-G" series; expanded main factory to accommodate new test facility; Released the ceramic board refractories for incinerators

2016

Developed the next-generation control system equipped with logging and network functions

2017

Released the automatic fuel switch system for MGO and HFO

2018

Co-developed a level sensor check-up system and preheat support system with a client for dry-boiling prevention; received first order for "Type SDR-G" dual fuel burner unit

2019

Delivered the first "SDR-G200" unit; began sales and operation of the "Sunflame Smart Support System", a user support system using land-ship communication network

2020

Developed the "GCU" (Gas Valve Unit) for LNG carriers and LNG driven ships

2021

Renovated head office; developed the building operation system interface "MaCo" using marine equipment control technology
Delivery Record

Reference List
---
Alfa Laval Inc.
Osaka Boiler Mfg. Co., Ltd.
Kashiwa Co., Ltd.
Tortoise Engineering Co., Ltd.
Mitsubishi Heavy Industries, Ltd.
CSSC JIUJIANG BOILER CO., LTD.
Kangrim Heavy Industries Co., Ltd.
ZHANGJIAGANG HAILU-SHAZHOU TECHNOLOGY CO., LTD.